---
| | | |
| --- | --- | --- |
| | | 1999 |
---
22 December 1999
Here's the latest, (from Tom de Lisle) kind of a mixed bag. Overall, the news is good on Buffy. Her MRI indicates that her swelling behind her eye (be it from a tumor or a swollen reaction to the laser surgery; that still is uncertain and may be yet for awhile) IS receding. That is THE priority result and what we've been hoping and praying for.
As Buffy said, "Honey, the prayers are working."
The news from her brain surgeon, at the same time, was discouraging in that he thinks that the gamma ray surgery she underwent to remove the original tumor might have done irreparable damage to the nerves behind her eye that were adjoining the tumor. If this is the case (and it is all still conjecture, only time will tell), it dampens her hopes to relieve the paralysis in her face, and get her sight and hearing back. She had hoped, even, to appear in Phoenix on New Year's Eve minus her eyepatch, but the removal of that will have to wait a while longer.
Now, before going into it further, I took the liberty of speaking for all of us who are pulling and praying for her in saying that we would now concentrate our prayers and energy and positive thoughts into fixing those damn nerves. Buffy was reluctant to ask for further help, feeling (understandably) embarrassed and said "I owe the Bloodliners so much, I could never ask them to help any more." I told her we understand that perfectly and can now begin concentrating on those nerves and will not miss a beat in continuing our "vigil" with her until we get this all straightened out.
One of the reasons she and John feel a letdown in the results is that they had advance word from a friendly (and 'unofficial' in that your doctor is the final word) radiologist that indeed the swelling/tumor had gone down, and went to see the surgeon yesterday with some optimism. And, again, while the major news is positive, the word about the damaged nerves threw some cold water on her hopes for a fairly quick and complete recovery.
I told her it will come, we will continue to help, and that March seems a good time to find out that the nerves are regenerating themselves. I really think we can do that.
I could tell she was a little down tonight, as was John (though recognizing that the recession of the swelling is major news.) Buffy even apologized for being a bit lower-keyed than normal (she is never glum or negative), and said--as is her style--"But you have to have some bad days to really appreciate the good ones, so it's okay."
As we all know, she has been terrific through all of this.
For the record, a few items: The laser surgery is so new that these kinds of reactions are not fully understood yet. But, the gamma surgery was the right thing at the time to deal with a very dangerous tumor. Also, the surgeon who 'invented' the gamma surgery maintains that it will NOT do lasting damage to other tissue. But J&B's surgeon said, basically, that in analyzing these kind of touchy cases you can talk to ten surgeons and get ten opinions/predictions concerning prognosis.
17 November 1999
John Stewart & Nick Reynolds will be appearing at the Paddy Clancy Memorial Concert which takes place Sunday
night, 21 Nov 1999 at Avery Fisher Hall, Lincoln Center for the Performing Arts, Broadway at 65th Street, New York, NY at 7:00pm
The complete lineup is : Tommy Makem, Odetta, Tom Paxton, Johnny Cunningham, Jean Ritchie, Carmel Quinn, Oscar Brand, (Irish Dance Champions) Donny & Eileen Golden, (Irish Fiddle Champ) Patrick Mangan, Eric Weissberg, Liam Tiernan, Danny Doyle, Gabriel Donohue.
The show is officially titled "The Paddy Clancy Memorial Concert", and proceeds benefit the Paddy Clancy Memorial Scholarship Fund.
Tickets are available from Center Charge, (212) 721-6500; prices range from $35 to $75 dollars.
www.ul.ie/~iwmc/paddy-clancy/concert.html

5 September 1999
Today is John Stewart's 60th birthday. Happy Birthday, John, and many more of 'em.
16 July 1999
Buffy's surgery, set for July 20th in Phoenix, has been canceled.
Due to a Kafkaesque turn in the breakdown of her insurance coverage, Buffy has no coverage for any work for at least 90 days. After 90 days she qualifies in California for full coverage of her needed brain surgery (under an emergency policy she
just qualified for this month), but obviously she needs the operation as soon as possible. However, that coverage does not cover emergency brain work. That has a 90 day waiting period.
So the Stewarts are looking at a nightmarish situation. Estimated cost for the operation she needs is $50,000. Half of that given up-front may get the surgery done.
John is looking at any and all possibilities and suggestions now. He is talking to people today, and trying to figure out what can be done. If anyone has ideas or suggestions about ways to turn in dealing with this, please let me know and I will pass them on. (slowcoach@easynet.co.uk)
13 July 1999
After a recent scare concerning his heart, John has been pronounced OK by his doctors.
Unfortunately, Buffy's tumour has been playing up again. She will have surgery again on Tuesday morning, July 20th in Phoenix. John expects to find out soon, hopefully today, what---if any, apparently nothing is certain---of this latest surgery's cost might be covered by insurance.
She is in bed, using strong painkillers to fend off the debilitating pain she's been experiencing for the past two weeks. John said her spirits are good, though she is obviously very anxious about having to go through such a difficult surgery yet again.
He said he got her "up" to confront the challenge while in Phoenix, but she is going through the normal concern now while back at home and knowing the certain July 20 date.
Hopefully this will prove the positive turning point in her ordeal.
Information as we get it.
16 June 1999
I have just heard from Ben Blake about the proposed release of some CDs by the Stewart Kingston Trio. Ben says:
Collector's Choice will release three Stewart KT Double Play CDs "in the fall." All at once, with few (if any) frills. They are: Close-Up/College Concert, New Frontier/Time To Think, #16/Sunny Side.
Bear Family's "The Stewart Years" 10-CD box set will be out before Christmas. My part (the same as on "The Guard Years") begins this week. I won't know the final track sequence until August. Bear is "tired of waiting" for Frank Werber, so nothing beyond "Once Upon a Time" will be included (so no "Thirsty Boots" this time, sorry!). Or as Mr. Bear says, it will be nice to have a few new items for box #3, if Frank ever does produce those final Hungry i tapes from 1967. If you've done the same math I have, you know there is only enough Stewart KT stuff to fill 8 discs, so I expect Bear has a few surprises in store.
For those upset that "Something Special" and "Back In Town" aren't being included in the Double Plays, this box should solve all problems! And we'll have all of "Somethin' Else", too.
If all goes well, "Old Ben's Newsletter #18" will be out before the end of July, and any new details will be in there, but I'd best get to work on those notes for now.
If this is old news, I apologize: Collector's Choice has the Cumberland Three's "Folk Scene USA" in their new catalog, with the 'Old Dog Blue/You Can Tell the World' 45 as bonus tracks. This is truly a banner year for fans of the pre-solo years of John Stewart.
15 March 1999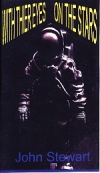 The Video, "With Their Eyes on the Stars," is now available.
"With Their Eyes on the Stars" was produced in 1963 by North American Aviation and NASA to encourage support for the Appolo program.
John Stewart together with brother Mike's group, "WE FIVE," John Phillips and Scott McKenzie recorded the score using traditional American folk songs as well as songs written by John and Mike.
Available for $20 plus shipment from John Stewart, 936B 7th Street, Suite 309, Novato, California 94945, USA.

---
February 1999:
Due to an error with medical insurance, John and Buffy are faced with an horrendous medical bill of $30,000 for an essential operation on Buffy's brain tumour.
All donations, no matter how small, are needed and will be greatly appreciated.
In USA, donations should be sent to: John Stewart, 936 B 7th Street, Novato, Ca 94945.
Email: angelbravo@aol.com
Cheques/money orders payable to John Stewart.
In UK, please send donations to: Leith Stuart, Blackhall Manor, Barrhead Road, Paisley, Renfrewshire, PA2 7EA, Scotland.
Email: fitzalan@stuartsblackhall.demon.co.uk
Cheques/postal orders payable to A L Stuart.

PRESS REPORT:
SanFrancisco (Associated Press)--Folksinger John Stewart, former member of the popular Bay Area-based folk group the Kingston Trio in their second incarnation from 1961 to 1967, sold his trademark long-necked Vega banjo Monday.
Stewart, of Novato, California, sold the banjo to 108 people calling themselves "Bloodliners," who pledged at least $16,781.37 to the common cause of paying for an emergency surgery for Stewart's wife, folksinger Buffy Ford Stewart. The offer exceeded the asking price for the banjo, recently offered for sale by Stewart for $15,000. Buffy will undergo gamma knife surgery this week in Virginia, and was left without medical coverage recently while facing the $30,000 operation.
A spokesperson for the so-called Bloodliner contributors, said "Well, shit-fire, we were shooting for $5,000. Then we were shooting to approach the $10,500 down payment John and Buffy needed for the operation. Getting to almost $17,000 is some goddam accomplishment."
The Bloodliner fund for the operation should run even higher, with more donations expected this week, and further donations from Bloodliners planning to send money in the future not counted in the $16,781.37 total. "We only counted pledges that specifically would be mailed within 7 days," said the source. "Several pledges were made for weeks from now, but not included in this count." In addition, a mixup in the counting of money sent from the United Kingdom certainly resulted in a lower final
figure. "I believe seven Bloodliners pooled their money in England," said the source, "and today sent a total of 500 pounds to the cause. Since we don't know which Bloodliners they were, and did count a few English pledges, we're not sure how much that will add to the cause. Plus, the money counters at the Finger Headquarters near Detroit, Michigan, are too stupid to know how much cash 500 pounds amounts to."
A spokesman for all 108 of the (thus far) contributors was asked what they would do with the famous banjo. "Well," he replied, "we were considering sending it from home to home, all of 108 of them, kind of like the Stanley Cup, with everyone possessing it for one week. But that would take over two years, and seemed too impractical. So we're just gonna give the damn
thing back to him."
---
January 1999:
NASA documentary video from the early 60's, "With Their Eyes on the Stars" is soon to be released. The soundtrack features John Stewart and the Ridgerunners, with Scott McKenzie and John Phillips. More details shortly.
---

Darwins Army (comprising John Stewart, Buffy Ford Stewart, John Hoke plus Dave Crossland) CD is now available.
The album includes such songs as Paul Simon's "Boy in the Bubble", "Silver Wings", "Darling Corey", "Dreamland", and many others. Here's the ordering details. Darwin's Army CD...

USA : $17 (including shipping/handling)

UK & Europe : $23 for air mail, $20 for surface mail (including shipping/handling)

Check or money order made out to: "Appleseed Recordings." Send to: PO Box 2593, West Chester, PA 19380, USA.

Or order online from Amazon Books, CD Now, Music Boulevard, Folk Era
---
[What's New]
[Homepage]