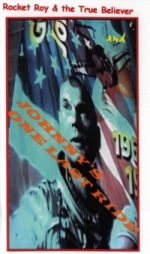 Taped in Titusville and Cape Canaveral, Florida in October 1998, this video is a chronical of John Glenn's second launch and includes an interview with Scott Carpenter and a rare excursion to Pad 14, the site of all the Atlas launches in 1962-63.
With a soundtrack including Ride the Lightning, Looking for Jack and Rally Down the Night by John Stewart, Price of the Fire (with Roseanne Cash), Wilderness (sung by Buffy Ford) and Shanandoah (sung by Dave Crossland).
Photographed by Johnny Dreams and Buffy Ford along with NASA archival footage.
AVAILABLE FROM
John Stewart
936B 7th Street,
Suite 309,
Novato,
California 94945,
USA.
$25 plus shipment