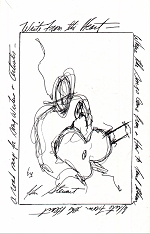 Write From the Heart - A handbook for song writers.
Printed by Crow Press, 1991. ISBN 1-880950-02-2
This book is a collection of maxims, quotes, ideas and tricks which were
found, made up and used by John Stewart during his many years of
song writing.
AVAILABLE FROM
John Stewart
936B 7th Street,
Suite 309,
Novato,
California 94945,
USA.