As Bob Elliot said, I was last seen clutching a handful of John Stewart goodies and heading for "an obscure Scottish Island", actually Iona, the cradle of British Christianity!! Got back last Friday night and have only just got time to sit down and write my review of Dalry.

I arrived at the Dalry Inn on Friday afternoon, to be met by Mark Austin and a note from Bob saying that we had a photo - call with John at 6.30pm...er..a photo - call with John??? No scam, it was real.

Rapidly met Bob, Ray, Julie and John, Helen and co from Leeds, Dan and Olivia...all very sane people with the same obsession, and I felt as if we had known each other for years. Will NEVER forgive Bob for having the extended "Trancas" CD!!

Arriving at the Turf for the shoot, we found that it was delayed, but that gave a chance to meet a guy, sorry, I forget your name, from Coventry, who had come up all the way, must be 400miles or so from Coventry, and had been told that he didn't need to pre - buy a ticket! Luckily Andy Fergus got him one. Now I have a theory about that, because it has been noted that in another life Andy Fergus could have been a Premier League Football manager...anybody notice an uncanny resemblance to Gordon Strachan, the Coventry Boss?? (spooky).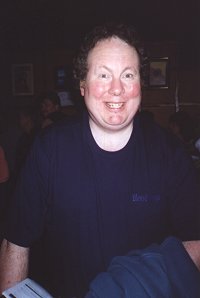 It was really good to meet all the people that i had "met" on - line and we spent time drinking and discussing the man and the music. The photo was good, taken, if I remember, by a passing woman with some dogs, though my memory is not very good when I am standing OUTSIDE a pub with JOHN STEWART. Actually, the first time I saw him was in a pub in
Bristol.
We missed out on getting the front row, as Helen and co moved the towels I had left there and grabbed the front seats (xenophobic British joke), but, I was there and so was John. I have seen him a few times now, but this was by far the best I had ever heard him and his playing was incredible. I knew that Ray was doing a set list so I didn't bother myself. Highlights for me were 'Who Stole the Soul of Johnny Dreams," 'Cannons in the Rain,' which featured a tremendous guitar break, 'Kansas,' onto the end of which he tagged a song I had never heard before (did you find out what it was, Ray?) and
'The Last Hurrah.' Actually, it was very hard to pick out highlights, because it was so good. I love "Johnny Dreams", a bare, stark masterpiece of reality...its a good thing I didn't hear it a few years back when I was teaching Emotionally Disturbed children...it would have become my anthem!!
It was good to finally meet, after so many years, Peter O'Brien and swap stories and catch up on what we had been doing in the intervening years, also to be in a room with so many die - hard fans.
I don't know what others thought,but to me, John's voice seems to get better with age! And talking about age, I guess a lot of us could relate to his intro to 'I want to be Elvis.' "I've turned into my dad."
Stayed behind until we got the taxi back, talking about all we had seen and heard and about "Nancy and Dancing Goats"...a fond memory which haunted me on Iona, which was full of Sheep!!! (ain't lambs cute??...but thats another mailing!!...and it WILL be relevant!!). Some of us were going off next morning, some were staying...did you get front row on Saturday when Helen was safely in Leeds?
So, off to Iona on Saturday, thanks for the lift Ray, it was good to meet and I loved the Mike Nesmith tape in the car...oh, by the way...Scotrail had done their usual and told me the wrong station!!! Ah, but "Strange Rivers"...if they hadn't I wouldn't have gone to the CD fair and met the guy who had been at the Turf the night before and was going on Saturday, or the Runrig Live CD or seen all the Bruce Springsteen live CDs; Mark (I think you have them all!!).
Now, the only thing that could remotely compensate for not seeing John on Saturday is to travel listening to him on the Walkman...so I did. The "Teresa" CD is brilliant, and I love 'Cooler Water'...especially as I was heading through the Highlands at the time. BUT...the abiding musical memory and most played track (get it on a CD John) is 'Who Stole the
Soul of Johnny Dreams.'
Thank you, John, for a brilliant experience and the music to carry around with me.
Rod (Yes, he HAS written the soundtrack of my life, Julie).

Rod Geddes : Isle of Man
Photos : Bob Elliot


[Dalry 98]
[Homepage]