Tony Gurney lied to me.

There was no log fire in the bar at The Turf when I arrived. The caber tossing exhibition had been cancelled and they were fresh out of haggis.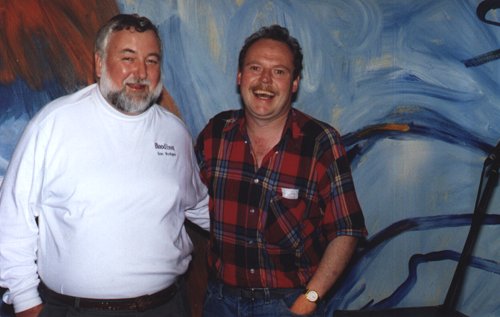 However, I did not let that spoil my evening. I met some great people including Tony Gurney, Ray Butler, Mark Austin, Julie & John Middleton and Dan (see photo left) & Olivia Hodges from New Jersey (not forgetting Rod Geddes from the Isle of Man, who will never forgive me for getting hold of a copy of the "Trancas" CD, with the extra tracks, which he has been trying to get for years). They all come from good homes but over the years they've developed ways about them
that just ain't right (as Tom Waits would say).
I was hoping to get an interview with Peter O'Brien and Andy Fergus but time was limited, I'd forgotten to bring my microphone and I was drunk.
There was a guy there from Coventry- (about 400 miles away) who didn't have a ticket and who had come for just the Friday night gig. He managed to get in (after paying Andy Fergus an arm and a leg) and told me that it was the best gig he had ever been to. It made my day to see him leaving the pub at the end of the night clutching a copy of "Havana", "Teresa" and "Stories Behind The Songs", with a great big smile on his face.
On the last night, John sang 'Desert of Dreams'. A very nice lady (Allison Elliot) had asked him to sing it on the first night but John could not remember it. She gave him the tape (Bandera) the next night and John rehearsed it in time for the final show.
Dan & Olivia were great people and it was a real pleasure to meet them.
All three of John's shows (or "reviews", as he likes to call them) were superb. I loved all the new stuff from "Havana" as well as four of my favourites; 'Freeway Pleasure,' 'The Last Hurrah,' 'Eyes of Sweet Virginia' and 'Desert of Dreams.'
I was hoping John would have sung 'Shrunken Head Boogie' but I guess he had too many songs to pack in.
We had a great time, John. Many thanks and we look forward to your next visit to these shores.
Peter O'Brien, John Stewart and Bob Elliot
Bob Elliot : Liverpool, England
Photos : Bob Elliot


[Dalry 98]
[Homepage]