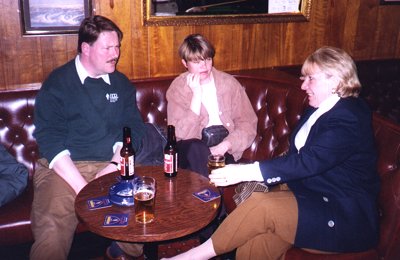 John & Julie Middleton, Olivia Hodges
Arrived at the Dalry Inn at 5.50 p.m. on Thursday night. Sat in the car feeling really nervous about going in. I said to John (my husband), "What if John Stewart's there?" to which he replied " I hope to God he is otherwise we've driven 400 miles for nothing!" A taxi pulled up and 2 blokes got out. I said to John, "They are definitely Bloodliners". Went in the pub and sure enough it was Bob Elliot and Ray Butler. We all got a few beers and started talking about guess who and it was like we had known each other for years, then Mark Austin arrived and there we all were talking about Swedish "Blondes", TBTAMC, the tape, the book, the CDs and I suddenly thought' "This is fantastic, I'm with people who have got it, this thing that has drawn us all to his music, his lyrics, his vision!"
Then Andy Fergus opened up shop and we were able to get our hands on the new merchandise at last. In another life Andy Fergus could be a Premier Division Football Team Manager. He's got the look, the strut and the gift of the gab!
Before we knew it the doors opened to the room at the back of the pub and we all crowded into what can only be described as a small dining room. Bloodliners all on the second row. Behind me sat a Reverend from the Gorbals, larger than life with 25 cigars in his pocket. A die hard John Stewart fan who had waited for years to see him live. What a character! He told me the filthiest jokes I have ever heard (which I won't repeat here) but will only say that one was about George Michael and a chocolate bar!
Then John was on stage. He opened with 'Turn of the Century' which I definitely think is one of his best songs ever. Such a haunting melody. He immediately started a rapport with us Bloodliners asking how far we had all come. Mark shouted out that he had come from London. John asked "How far away is that?" and a Scottish voice from the back replied "Not far enough!"
In the front row was Helen from Leeds who has been talked about on the Bloodliners list. John told us all how she had been over to Arizona to see him and how he had taken her to meet Angel Delgadillo. I spoke to her in the interval and she asked me to send her love to Rickster and Nancy. She said how wonderful all the US Bloodliners had been to her when she was over there. She also told me what a lovely person "Dave" was and I thought, "Where have I heard this before?!!"
I won't steal Ray's thunder but it was a magical evening. He played a lot of stuff off "Havana" which was great mixed with all our favourites. The ones that stand out are 'July', 'California Bloodlines', 'Shadows of the Angels' Wings.'
Before we knew it was over. John held court in the little room next door. I think he spoke to just about everyone there. I managed to bumble something out (well it is just like meeting Elvis isn't it?).
Bob Elliot was on such a high we couldn't drag him out of the pub and left him still soaking up the atmosphere (and the booze). We nearly got locked out of our hotel but it would have been worth it!
John (my husband John, who likes JS's music but not in the same way we do) said the only way he could describe the experience was it was like something out of "Close Encounters of the 3rd Kind." All these people from all different walks of life drawn from all over the country by a common force!
What was so great for me was not just seeing the man himself but meeting all these other people who felt the same way as I did.
* * * * * * * * * * * * * * *
Woke up on Friday to a beautiful day and took the ferry to the island of Cumrae and walked for miles listening to "Havana" on the Walkman. With the sun on the ocean and the mountains of Arran in the background, it was blissful.
On the way back, stoped at the Dalry Inn to check on arrangements for the evening ahead. Rod Geddes had arrived from the Isle of Man and Dan and Olivia Hodges from New Jersey. We all arranged to meet later at the Turf. As Friday was 'Bloodliners' night', John had agreed to have his photograph taken with us before the show.
Got there to find that John and Andy were going to be late. Dan told us how on his second date with Olivia he took round all his JS CDs to see whether she liked them. Thankfully, she did. It was either him or her! Dan has seen JS over 50 times in over 14 states! Olivia told us they had seen him in the most unlikely of places, the most bizarre being a supermarket with someone speaking over the tanoy every 5 minutes! She is a real sport, allowing JS's itinerary to dictate their itinerary of Scotland and Yorkshire.
John arrived and we had our photoshoot. Then I met Peter O'Brien again after 13 years, not looking a day older. He loved being there playing the role of minor celebrity.
John's performance was a little more subdued than the previous night. He seemed more distant somehow. Still absolutely brilliant though, just a different mood. The highlight for me was when he played 'Freeway Pleasure.' It took me right back to being 14 in my bedroom listening to "The Lonesome Picker Rides Again" and dreaming of all life's possibilities.
We all stayed on discussing the show, the set list etc, not really wanting to leave. It was just so great to be there with all the Bloodliners and it occurred to me that no-one had even asked each other what they did for a living. It didn't really matter. It wasn't important. I don't think there was one ouce of pretension in anyone there.
The next day driving back home I recalled Rod Geddes telling me that JS had written the story of his life and I said to John (my husband John) that he had not written the story of my life but the story of my dreamlife and John said to me "I don't know. You don't have to go down Route 66 to go down Route 66." And I thought that just about sums it all up really.
Anyway, Ray, Bob, Mark etc, can we have a detailed report of Saturday night in Dalry for all of us who couldn't be there? I want to know everything? Did you manage to get front row seats with Helen and her entourage off the scene? Did you manage to find a curry house or was it deep fried Mars bars again?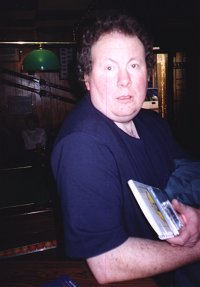 Rod Geddes : holding onto the goodies for dear life
Julie Middleton : Bristol, England
Photos : Bob Elliot


[Dalry 98]
[Homepage]