Turf Inn, Dalry, Scotland - 18 April 1998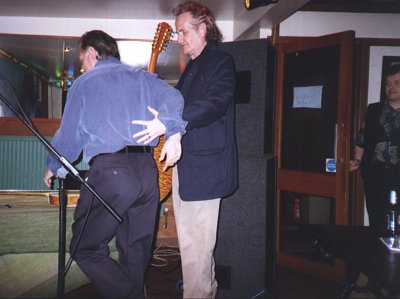 "Andy, I'm in the middle of a song. You can look for loose change on the floor after the show."
What a night! John in fine voice and fine form, a room full of singing, bopping, blissed-out Stewartistas, a rousing finale to the 3 nights. About 30% repeat business, and another different set - not 100% different, the new songs already getting that comfortable "Classic JS" feeling.
The room was full even earlier than on the other two days, and there was a real sense of occasion - a lot of people in the audience had dressed up and were clearly on their big night out of the week, and the Turf's barmaids were at their most glamorous in living memory.
To the Music - Starting on 6 string, John ran through the set (listed below) and again the new songs were received as classics that people hadn't heard before. Already, a lot of lips were moving along to the lyrics of 'Dreams of the Starman,' 'Rock'n' Roll Nation' and 'I want to Be Elvis.'
Dalry is of course a most fitting place in which to celebrate Elvis and his legacy (don't forget, we've got Elvis to thank for JS' career in music) in song, being just down the road from the only British soil ever walked on by the King, at Prestwick Airport.
Dan & Olivia (all the way from New Jersey) were greeted personally ("Hey, John, It's nearer home than California").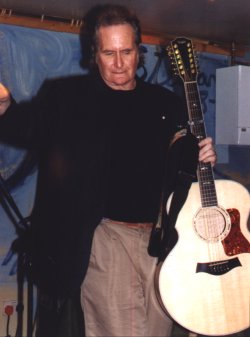 The heat gave some tuning problems (handled with laid-back aplomb - later, Andy Fergus was heard to remark that it had been the first time John had ever complained of heat in Scotland) but they were soon overcome.
"What do you want to hear?" gave rise to the usual lack of unanimity - a chorus of 'Fire in the Wind' and a solo shout of 'Daydream Believer' from a Bloodliner in the front row were rewarded in the second set, though.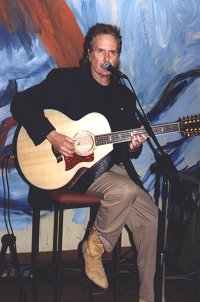 A cooling-off interval was followed by a stunning second set, marked by a bravura 'Dogs in the Bed', loud community singing along with 'July You're A Woman,' quiet community singing along with 'Who Stole The Soul of Johnny Dreams?', a rare outing for 'Desert of Dreams' (apparently, a lady had asked John to sing this song the night before and John couldn't remember it, so she lent him the "Bandera" cassette and he learned for the final show) and a glorious community yell-along with 'Daydream Believer' - even Fergus was observed singing! "Funky" (as in "Now you know....") was sung in 150-point bold underlined italics. No singing Donuts in Dalry this night!
During this short season, the encore ritual has been dwindling. On Thursday, John was coaxed back from his dressing room by the applause. On Friday he got as far as the door, then back on. Tonight he stood up, took one step then returned.
For 'Fire in the Wind' (general ecstacy from audience) and a real finish to the show and the season with a dedication of 'California Bloodlines,' (arranged for author, guitar and 100 voices) to Pete O'Brien ("Nice Hand for Pete O'Brien, been there from the start").
John took DAT tapes of all 3 nights - The Box that Ate Mt. Clements is getting bigger & better fed ....
Set List
Turn of the Century
China Sky
Cannons in the Rain
Shadows of the Angels Wings
Dreams of the Starman
Keeper of the Flame
One-Eyed Joe
Wingless Angels / Survivors / Seven Angels
I Want to be Elvis
Rock 'n' Roll Nation
Eyes of Sweet Virginia
* Interval *
Johnny Flamingo on the Blue Dream Road
Miracle Girl
Kansas
Dogs in the Bed
July You're a Woman
Who Stole the Soul of Johnny Dreams?
Desert of Dreams
Star in the Black Sky Shining
Strange Rivers
Ticket to the Stars
Runaway Train
Daydream Believer
Waiting for Castro to Die
Neon Road
* The encore No-Step *
Fire in the Wind
Looking Back Joanna
California Bloodlines

Reviewed by Ray Butler
Photos : Bob Elliot

[Dalry 98]
[Homepage]