Turf Inn, Dalry, Scotland - 17 April 1998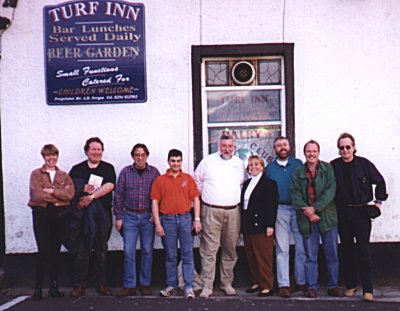 Julie Middleton, Rod Geddes, Jim Mason, Mark Austin, Dan & Olivia Hodges, Ray Butler, Bob Elliot, John Stewart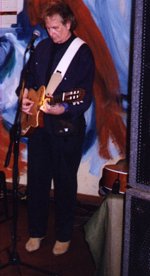 Before the show all available Bloodliners assembled outside the Turf for a photo with John - soon to be available on the Slowcoach Site Rogues Gallery as "Up Against The Wall, Bloodliners". The Rogues in question were John Stewart, Bob Elliot, Ray Butler, Julie & John Middleton, Rod Geddes, Mark Austin, Dan & Olivia Hodges (all the way from the USA - Distance Champions, audience division) and The Guy from Coventry. Tony Gurney, living not so far, missed the line-up.
Also in attendance was Pete (Omaha Rainbow) O'Brien - a pleasure to meet him after all these years. Once inside, a lot of differences between Thursday's and tonight's sets, even the same songs were different - different arrangements, different guitars. Much less between-songs banter, more reflective material. Similar sold-out wildly appreciative crowd though. John seemed in sweeter voice than yesterday. Thursday's voice was the hoarser sound from the more recent material, today's had more of the 80's sound to it.
Highlights - The pin-dropping silence from the audience during 'Who Stole the Soul of Johnny Dreams?', John's intro to 'Rock 'n' Roll Nation' ("I know it's me. But new Music Sucks - I Sound like my Dad"). This hit all the parents in the audience right where they felt it! And the reception the new stuff got - as good after the songs as the old stuff. These songs are definitely classics in waiting.
To sum up - another magic night in Dalry.
Set List
Johnny Flamingo on the Blue Dream Road
Freeway Pleasure
Dreams of the Starman
Keeper of the Flame
Rock 'n' Roll Nation
Cannons in the Rain
Dreamers on the Rise
Bringing Down the Moon
Irresistible Targets
California Bloodlines / Chilly Winds / The Last Hurrah
* Interval *
Turn of The Century
Strange Rivers
Dogs in the Bed
I Want to be Elvis
Who Stole the Soul of Johnny Dreams ?
Wingless Angels / Survivors / Seven Angels / Angels with Guns
Neon Road
Kansas
Going Home
Star in the Black Sky Shining
Eyes of Sweet Virginia
* The Encore one-step *
Waiting for Castro to Die
Pirates of Stone County Road

Reviewed by Ray Butler
Photos : Bob Elliot

[Dalry 98]
[Homepage]