The Sunday gig was at Fibbers - I think it's the first time John has played there but it is another typical bar with a stage. John was great - the sound was crisp, clear and loud and he did six of the "Havana" songs and a good sprinkling of older and newer ones. He used a twelve string Taylor and a Godin nylon strung [Acousticaster?].

We bought Havana and the book and he signed them and did a little drawing for a few of us who hung back at the end, he
looked a little tired but the set was good. It was great to see Bloodliners there including Dan and his wife Olivia who had come from NEW JERSEY for two at Dalry AND two at York.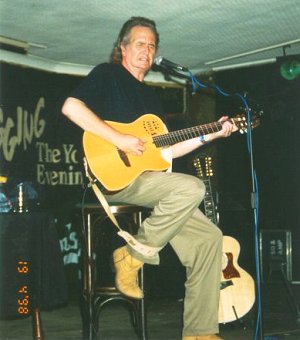 On Monday it was back to the Winning Post, the scene of many great JS gigs in the past. It was full but not as packed as last time [he could get to the stage without climbing over bodies]. Terry from LA was there and a couple from Holland - International fandom. We got there early and queued but they opened the room earlier than I remember at 7.45 for an 8.30 kick off so we got good seats. John has mentioned the "dressing room"???? at the Winning Post many times before when he has appeared here [I think it was a stair well with a dog called Otto, who is dead now] - this time there was a problem even with the stairwell [someone said - "the light bulb has broken" - maybe it was an excuse for something else]. Anyway John did not appear until 8.50 p.m. and began by apologising that he was having to take his coat off and set up right on stage.
After plugging in the stomp boxes the guitars came straight out of the cases and of course, as twelve strings tend to, the tuning was difficult. But he started, then stopped when someone with a flashing light on a tape recorder disturbed him, then again on 'Wingless Angels' when a tech tried to alter the stage lights from the side of the stage in mid-song.
After three songs John said, "I feel like I am in the band on the Titanic." I feared the worst, but hey, this is the Winning Post and the audience is always 100% with him.
Despite some more minor tuning hiccups things began to pick up and the second half was brilliant. The show was quieter than at Fibbers but we joined in more and after a rousing 'Daydream Believer' someone requested 'Botswanna' as an
encore. John said, "do you really want that type of song to finish?" We said yes and he did a medley of quieter songs to end the night, with the audience mesmerised.
IT WAS GREAT.

Eric Johanssen
Photos : Eric Johanssen

[York]
[Homepage]