---
| | | |
| --- | --- | --- |
| | | 2000 |
---
2 November 2000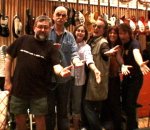 John has been down in Nashville this week, working with Nanci Griffith on her new album.
Early word is that there will be three JS songs on the album (Ghost Inside of Me, Armstrong and Lost Her in the Sun)
To see a photo of the recording session (featuring John, Pat McInerney, James Hooker, Nanci Griffith, Maura & Pete Kennedy), go to http://www.kennedysmusic.com/tourphotos.html
17 October 2000
Buffy Ford Stewart will be performing a one-woman show to be held Saturday night at the West End Theatre in San Rafael, CA on 21 October.
The West End theater, 1554 4th Street, holds only 65 people, and reservations must be made by phone. There will be NO door sale for the show. Call 415-453-0552 to hold a seat. Admission is $25, with a share of the profits being raised for a non-profit arts organization.
Organizers need to know how many Bloodliners plan to attend so they can add chairs to the room.
This show oughta be something. Besides solo singing and comedic work by the Buffster, she will be joined by John for a medley of favorite John and Buffy songs, including several selections from Darwin's Army---'12 Gates to the City', 'Reason to Believe', 'Don't It Make You Wanna Go Home' and more. "Pirates of Stone County Road" will also be featured as a duet, along with -- get ready for this -- a comedy sketch starring John and Buffy as "Regis and Kathy Lee." For real.
'Liner heartthrob and fan favorite Dave "Dave" Batti will also be performing. Rumors persist that in the "Regis and Kathy Lee" sketch he may be playing the role of their producer, "Gelman."
The show begins at 8 p.m. and ought to be a magical evening, Buffy's first major venture since her medical crisis arose a couple years ago.
Thank God, literally, that she's now well enough to take on such a challenging performance. It should be terrific fun---great singing and music, laughs, and a show unlike any you are likely to see anywhere else.
25 September 2000
The CD Wires from the Bunker is now available as a US release on Appleseed Records. (See discography).
Track listing is the same as for the UK release but, apparently, the sound has been enhanced and there are liner notes by Tom De Lisle. However, they have not made too good a job of the front cover.
18 September 2000
John has just completed a three gig tour of UK taking in London, York and Dalry. He brought with him a CD for sale on the tour, Johnny Moonlight : Waltz of the Crazy Moon (see discography) featuring eleven tracks. Although a limited edition, I understand that it might be available at future gigs.
John also did a number of interviews for radio.
10 August 2000
John's new CD is Wires from the Bunker featuring 18 tracks previously unavailable on CD.
UK Release Date : 11th September 2000 on Wrasse Records (Wrass 024).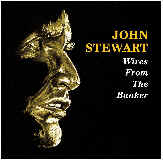 Wires From The Bunker has been personally put together by John Stewart. With tracks previously unavailable on CD, and others never before released, this collection represents a highly personal piece of work. Until this year, these tracks lay undiscovered and their discovery will create enormous interest to the fervent world-wide fan base. The majority of John Stewart's album titles relate to his homeland with classics such as 'American Journey,' 'California Bloodlines' and 'Airdream Believer.' This album has none of the romanticism of these titles, but presents the emotions and strains of writing music and the relationships surrounding this. Most of the tracks featured here were produced through the 1980's and feature John Stewart at his most creative peak, along with a number of guest musicians including Lindsey Buckingham.
Tracklist is as follows:
American Way, Under Heavy Fire, Same Old Heart, When the Night Was Ours, Hot on the Trail, Molly and Tenbrooks, Escape of Old John Webb, Molly Dee, Liddy Buck, Cheyenne, It Might as Well be Love, Wide Eyed in Babylon, High Flying Eagle, Tears of the Sun, All the Desperate Men, Diamonds in the Coal, One Shining Day, Rockin' as the Night Rolls On.
Wrasse Records have agreed to supply a limited number of the CD to John's fans before the official release date, so anyone interested in a copy should initially contact me at Bob@Bite-Myfoot.co.uk
8 July 2000
For those of you wishing to take part in the Trio Fantasy Camp on 10 - 12 August, in Scottsdale, AZ, please
CLICK HERE
15 June 2000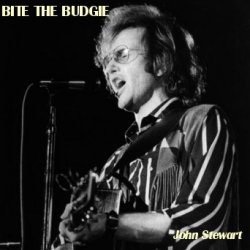 The compilation CD, Bite The Budgie is now available. It is a limited edition and features official releases by John which are no longer available (such as singles and songs from soundtracks).

All donations from the distribution of this CD will go towards the Buffy Fund.

A full tracklist is available at my discography section, under Bite The Budgie.

15 May 2000
The Real Audio for the recent Dalry gigs is now online. To listen you will need to have Real Player 7 installed on your computer. I have selected various songs from the three shows and have split the Webcast into five parts for convenience. Just click on the links below.

Don't forget to let me know if you enjoy it.

PART 1 PART 2 PART 3 PART 4 PART 5

6 May 2000

Talked to JS and Buffy tonight, both of them buoyant following Friday's shows at the Turf in Dalry. John reports that the weather has been the best he's ever seen in Scotland--bigtime sunny--and the shows have gone terrifically. He said he's in the best voice he's been in a while, and the "trio" singing he's doing with Buffy and Nick Reynolds has been very energetic and fun. Both John and Buffy were very 'up' on the phone.

Friday's performances were taped by a two-camera documentary team hired by Andrew Dean Fergus, Turf Inn owner and host. A videotape of the tour will be put together from the raw footage. I don't know Andy's plans for the tape. (I talked to him about the tape and possible availability, but it was 2:20 a.m. there and he was drunk and talking Scottish instead of English and I just kept saying "uh huh ... yeah ... oh sure" and praying he'd give the phone back to John because I couldn't understand a word he was saying and it would have been useless and even more frustrating to have him repeat it.)

John reports that the London recording label he sent his '81-era TBTAMC demos to--including 'Under Heavy Fire,' 'American Way,' 'Rockin' as the Night Rolls

On'--loved the cuts. I can't remember if they said the recordings were "superior" or "superb"--it was an 's' word, one or the other--but John was delighted with their reaction. Next week he'll have to decide what direction to take in terms of releasing them over there, over here, worldwide, whatever and however.

In all, things have gone so well that there is already talk of a return trip, possibly this fall.

.......Tom De Lisle........

4 May 2000

John has recorded a CD entitled Buster which he has brought over for his UK and Ireland tour. It features 10 newly recorded tracks. See discography for details.

13 April 2000

Buffy Update : Talked with Buffy just a bit ago. She is coming along very well; expects to be up and around by early next week. For the first time in three years, she is not wearing an eyepatch. The vision in the eye is still shaky -- double-vision and bluriness. She will be wearing the patch for the UK tour, but following the next surgery, after returning, she's hoping she will finally regain full usage of the eye.

Buffy added that the effect of the most recent surgery--cutting and strengthening and lifting the muscles around the eye, was similar to a

face-lift procedure. And that John told her that she "looks 12 years old" following the procedure. She also reports that JS has been doing a sterling job of house-husbandry during her recovery, and that he is especially good at taking the garbage out AND driving the kids to soccer practice, even though they don't have any kids who live at home, much less play soccer.

She said "Tell the Bloodliners I don't know what I'd do without them. I can feel their prayers every day, and I pray for THEM every day too. I'm just so lucky to have them, please thank them for everything."

.......Tom De Lisle.......

9 April 2000

Buffy Update : Message from Tom De Lisle reads as follows:

Just heard from John at the hospital. Buffy is in good condition, and going home tomorrow following yesterday's successful corrective eye surgery. She stayed in the hospital an extra day because the anesthesia made her nauseous, and the doctors also wanted to make sure that she didn't have any excess bleeding. John said the surgery took over five hours--four had been expected. She's still pretty weak and bandaged up, but they figure she'll be strong enough to go home in the morning.

John stayed at the hospital last night. They couldn't find him a spare bed, so he slept on the floor. Tonight he's got a cot fixed up--he figures they'll come in by mistake at 5 a.m. and take him to have his gall bladder out.

I asked him to pass on our concern and good wishes to Buffy, which he said he will certainly do. We'll find out more tomorrow when they get back home.

Keep up the good wishes and prayers...

18 February 2000

The video Benefit for Buffy is to be screened at Penn State Delaware County Campus, Media, PA, USA on
1 April 2000 and will be hosted by Rosanne Cash. For more details, CLICK HERE.

10 February 2000

Looking for the lyrics to John Stewart songs? Then look no more. The John Stewart Lyric Database is now online. Thanks go to Tim Riley, Mark Austin and others who have been working on this project for almost two years. You can find the database by going to http://208.133.254.79/jslyrics/default.html

21 January 2000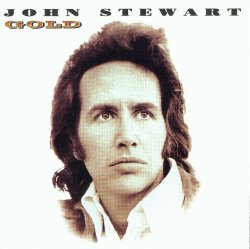 April sees the release of a John Stewart compilation CD, Gold - The Best of John Stewart.
2 CD's, release date 17 April 2000. 41 track double CD compilation of John's career from the 1960's to the 1990's. Released on Wrasse Records (http://www.wrasserecords.com).
CD ONE
California Bloodlines / Omaha Rainbow / Pirates Of Stone County Road /
Mother Country / July You're A Woman / Julie, Judy, Angel Rain /
Oldest Living Song / Great White Cathedrals Willard / Freeway Pleasure /
Touch Of The Sun / Bolinas / Crazy / Kansas Rain / Light Come Shine /
Durango / Anna On A Memory / All Time Woman / Road Away / Armstrong /
Spirit / Cannons In The Rain
CD TWO
Hung On The Heart / Some Kind Of Love / Josie / 18 Wheels / The Last
Hurrah / Gold / Lost Her In The Sun / Midnight Wind / Wind On The
River / Night Man / Wheels Of Thunder / The Queen Hollywood High /
Jenny Was A Dream Girl / Angeles (City Of Angels) / Sweet Dreams Will
Come with Nanci Griffith) / Runaway Train / Midnight Of The World /
Shadow Of The Angels Wings / Daydream Believer / I Remember America
It can be ordered NOW from Amazon UK or Amazon.com.
---
[What's New]
[Homepage]