---
| | | |
| --- | --- | --- |
| | | 1998 |
---
December 1998: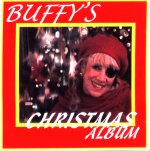 John and Buffy have recorded Buffy's Christmas Album, and it will be available for sale at McCabe's this weekend (December 12) in CD form.
John has been working like a madman all week, first finishing the production and cover art for "One Night In Denver," then putting in 20 hour days to make this new holiday album available. The decision was made Sunday--Buffy really wanted to do it--and 72 hours later it's a done deal.
Buffy sings nine Christmas songs--eight standards, and an original carol by John called "Mary's Baby." John plays guitar and bass on all the cuts, and joins her on vocals for "Mary's Baby" and "We Wish You a Merry Christmas." A keyboardist--don't know who at this writing--added tracks on Wednesday. Songs include "What Child Is This, Silent Night, Away in a Manger, We Heard the Bells on Christmas Day, Coventry Carol, Virgin Mary, and Hark the Herald Angels Sing." It's amazing when you think that it wasn't but a few weeks ago that Buffy was in delicate surgery, and is still recovering. This album comes as a further answer to all our prayers.
Buffy's Christmas Album (working title right now, but it may stay the actual one) is also available via the mails at the Novato address, at $19.95 plus the handling fees. (John says he may find out how much 2-day mail costs, so people can be sure to get the album ASAP at this late date. With this Christmas album; "Denver;" the second "Stories" book, and the John Glenn
video, he's up to his keester in mail orders.) As mentioned before, all the items will be available at McCabe's this weekend.
John has talked of re-recording "Fire in the Wind" and "Signals" for a new CD release.
---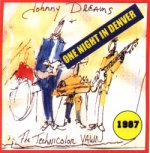 As a holiday special for Christmas '98, John has consented to the release of a live concert from TBTAMC--"One Night In Denver," a superb February 21, 1987 show from the Fairmont Hotel in Colorado.

This never-before released show was recorded routinely off the house sound system of the hotel, and thrown (unheard, of course) by John into his large box of old tapes.

John and Buffy had intended to release a Christmas album for '98, but her health situation held that up. Instead, we asked JS to just LISTEN to this show and consider it for release. He heard it, he even (surprise) LIKED it, and is putting it onto a CD format right now: It is now "One Night in Denver," by Johnny Dreams and the Technicolor Yawn (the "Yawn" consisting of Dave Batti, John Hoke, Dennis Kenmore, and a guy who plays sax on "Midnight Wind" and "Gold" whose name I don't have in front of me.)

This 65-70 minute concert is among the best I've ever heard. The sound is terrific for a tape that was never meant to be released, just made as a favor to John. I have to tell you, I have been bopping to this one in my car ever since I first heard and copied it, always thinking "Man, I wish everybody could hear this one." It has as much energy and power as any JS show I've
ever attended; it just jumps. It is the best 'live' recording of all of John's old shows in TBTAMC.

Here are the songs: Ticket to the Stars; Daydream Believer; Always Young; July; Children of the New Frontier; Botswanna; Midnight of the World; Pirates of Stone County Road; Hit and Run; Midnight Wind; Gold; Mother Country; Solsbury Hill.

Always Young is a never released superb song. New Frontier, Midnight of the World, and Botswanna are all done in pre-"Punch the Big Guy" form, with some lyrical and musical differences, but all great. (John and the "Yawn" were starting on "Big Guy" when they did the Denver gig. The recording is from the last night of a two week run, so they were loose and smokin'. The energy is really strong, and there's funny between-song stuff with John and the band.) Solsbury Hill is a Peter Gabriel song. Hit and Run is from the Trio days.

Gold and July on "One Night In Denver" are the best recorded live versions I've heard, with this "Gold" rivaling the great recording from Neon Beach. And John said tonight that he thinks this is the best "Mother Country" he's ever heard live. (No kidding. HE said that. And he's not even a fan.) JS talked of MAYBE taking July or Pirates off the tape, because they've been on other releases, and we fought that. As fans, we know how much the fellow Stewartistas will want them on here. Particularly sounding as good as they do here. July is really driving, and hard edged, the most aggressive I've heard it.

Anyway, the album is being whipped into CD release form as a Christmas offer this very moment somewhere in northern California. Hopefully this will be the first of many subsequent TBTAMC releases. (Oh, I forgot. John said tonight that after hearing this show ... "It made me want to go out and play again." There's your highest praise for "One Night in Denver. And, as stated, he's not even a fan.)

Normally, we'd be announcing this stuff with a special Christmas edition of The Finger, but thank goodness for Bloodlines, we can get the information out immediately. So, for the record, offered now for immediate purchase via the mails from John Stewart, 936B 7th Street, Suite 309, Novato, California 94945, USA.

--"One Night In Denver" John Stewart live CD, from February 21, 1987

--"Johnny's One Last Ride," VHS, JS's combination documentary/music video of John Glenn's recent space shot, a boundary-breaking new form of guerilla video combining home movies, interviews, cool footage, and music as only JS could
bring them together.

--"Stories Behind the Songs Volume 2," the stories in interview-book form of each song from "Willard" and "Lonesome Picker Rides Again."

--Tom De Lisle
---
September 1998.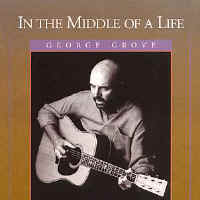 George Grove (of the Kingston Trio) has released a great solo CD called, "In the Middle of a Life." Details can be found at George's website.
---
August 1998.
John's proposed gigs for Ireland in September have been cancelled. There is still no confirmation of the proposed gigs for London and Edinburgh.
---
June 1998.
Spencer Leigh's interview with John in York, in April, was broadcast on his radio show on Tuesday 23 June 1998 on BBC Radio Merseyside, 95.8 FM. It is a cut-down version of the original interview and Spencer has included some tracks of John and others. The interview can be heard in Real Audio format at this site.
Click here for the Real Audio version. Click here for the text of the full interview.

I have added a new style Guest Book to the site. The new Guest Book is friendlier to use and a lot more interactive than the old one. It may be accessed from the Homepage or by clicking HERE.

---
April 1998.
April saw the release of the CD version of Teresa & The Lost Songs. (See Discography). Some of the songs are the same as on the cassette version plus three new ones; 'The Woman Rides The Beast', 'Cooler Water - Higher Ground' and 'Liddy Buck'.
Available from Homecoming Records.

Also available is the cassette Havana, (see Discography) especially recorded for distribution on John's UK tour. Only a limited number of copies have been made so get it while you can.
Tom De Lisle says about this album : The staff of the FINGER received the new album, "Havana," and the good news is...it's a classic. Even though it was produced in a short amount of time, it is up there with the best recordings he's ever released. I played the tape all day yesterday, last night, first thing this morning, right now.
It's a knockout. An album with real b... well, cojones. (Did I say that right, and can I say that...right spelling or not?)

Particularly noteworthy (uh, to this reviewer, as they say) are both the variety and richness of the new songs. The primo standout, to me, is "Who Stole The Soul of Johnny Dreams?" striking in sound and lyric, one that takes its place alongside "Ghost" and "Miracle Mile" as a modern Stewart classic. Any song that begins with a funky guitar hit and the lines "Attention K-Mart shoppers...do you really need all that crap?" is up my alley. The lyrics here are so searing--and as usual John is hardest on himself--that we will try to reproduce them in the upcoming FINGER.

Another highlight--a gorgeous tribute to Buffy called "Miracle Girl"..."if you think that she's magic you're right....she's a miracle girl, and the miracle's mine." It takes its place alongside "She Believes In Me." Some of us asked what Buffy's health emergency last fall would engender in John's music, and here it is...along with "Dreams of the Starman," a very touching ballad about the basic questions of life. Indeed, Buffy closes the album with a soaring "Wilderness," the chorus taken from a 1970's unreleased JS song "Shining Star,"..."after years in the wilderness, you will find your shining star..."

There is "Waiting For Castro To Die," a guitar-riffy slice of life from the seawalls in Havana..."Turn of the Century," an up-tempo observation of the chaos surrounding the death of Princess Diana..."One-Eyed Joe," a countryish walking guitar that Mark Knopfler would be proud to claim. And two new surprises--"Rock and Roll Nation" ("livin' in a rock and roll nation, rocking is our destination, don't need no justification"...with Jerry Lee "playin' the piana") and "I Want To Be Elvis"--smart historical rockers right out of the '50s and the south. Great stuff. You have to hear how the familiar "uh-huh, yeh yeh" riff from "All Shook Up" is worked into "I Want To Be Elvis." On the money.

And--get this--a jumper called "Davey On The Internet," which should actually be titled " `Davey' On The Internet" with the extra quotation marks...that is a fast-talking review of our lives athwart these computers...and I mean our lives, because Bloodlines is included in the lyrics, and, yup, it's that "Davey."

Completing the lineup is a bluesy "Dogs In the Bed"..."how can I sleep at night, when the world is turning red?...did ya hear what I said...there's dogs in the bed." And "Rally Down the Night," an excursion into the dark and a search for the light..."and who will find the hidden clues?"...a reworking of a haunting 1997 JS song.

For an album that was, for the most part, quickly written and recorded (ten days) without the luxury of studio remixing and lengthy production time, "Havana" stands up to months-long big-label releases and goes them one better. (It is already up there in my Top Five JS albums. Don't ask what the other four are because I don't know.) The personal touches here make it a uniquely Stewart album, of course, but once again he has produced a pivotal work. It breaks a lot of new ground, opens new roads. It exits at the junction where "Rough Sketches" and "Secret Tapes" meet, rolling out into the countryside. I love this album. And, yeah, it is a super highway album--I always road test 'em.

Overall, "Havana" gives me the kind of great feeling I had in springtimes past, when I first played "Number 16" by the Kingston Trio in April of 1963...or the rush I got playing "Sunstorm" over and over in April of 1972.

A final note--this cassette was made originally only for the Scotland tour; and extra copies are being made available only to Bloodliners (John has posted the cost and address) through the permission of John's new label at Appleseed.

This December should see the release of some new CD titles.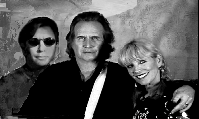 Darwin's Army (left) consists of Buffy Ford Stewart, John Hoke and John Stewart. Their first CD will be be released on Appleseed Records. Recorded with banjo, acoustic guitars, bass, drums, percussion and accordian, it is expected to be an electric mix of roots and contemporary folk music.
Also planned is a release of John's Angel Songs - no details as yet.
Kingston Trio : Best of The Decca Years CD is now available.
Todd Everett, who compiled this album (and also compiled the "American Originals" series) says the following:-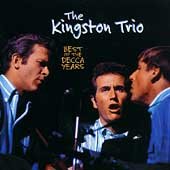 "For the notes, I interviewed Bob, Nick and John, plus Frank Werber, Rod McKuen, Mason Williams, Tom Paxton and Fred Hellerman (then had to cut the notes down by half, so they'd fit!). Tunes, as I've noted on the Trio site, are: Stay Awhile, Long Time Blues (acoustic version), Love's Been Good to Me, Poverty Hill, My Ramblin' Boy, Three Song, I Can't Help But Wonder Where I'm Bound, Rusting in the Rain, They Are Gone, Lei Pakalana, Children of the Morning, Hit and Run, Less of Me, Lock All the Windows, Gonna Go Down the River, and I'm Going Home. That's 16 cuts, about 42 minutes. All three guys seem to like the line-up, which various Trio and John Stewart fans who responded to my posts helped me come up with." Todd Everett.
UK Tour 1998
Spencer Leigh of BBC Radio Merseyside has interviewed John for his radio show. There have been a number of questions submitted by John's fans which Spencer has included in his interview. (See "Interview with an Angel").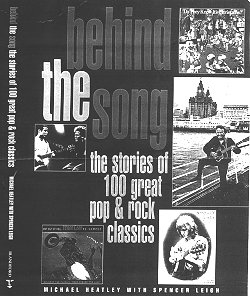 Spencer has also compiled a book with Michael Heatley called "Behind The Song : The Stories of 100 Great Pop & Rock Classics". Among the songs featured is John Stewart's 'Armstrong'.
Available from most reputable UK book stores for 14.99 pounds. ISBN 07137 2651 2.










---
[What's New]
[Homepage]