| | | |
| --- | --- | --- |
| | | Omaha Rainbow |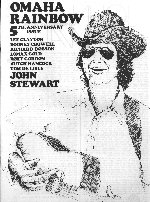 Omaha Rainbow (edited by Peter O'Brien) was a unique magazine which featured artistes of the country/folk/rock genre. The first issue appeared in 1973 and the last issue in 1988. There are many interviews, album reviews and concert reviews within its pages.
Since the birth of the Internet, it has been my ambition to make this superb magazine available online. My original intention was to scan all 42 issues and upload them in jpg format. However, I figured this would take up too much space on the server and would take too long to download. Therefore, I have decided to upload only the John Stewart content of each issue in a text format and in the future, if time permits, upload some articles on other artistes.
I would especially like to thank Derek Jackson for lending me some of the issues which I have mislaid over the years.
Return with us now to those thrilling days of yesteryear


[Homepage]