The Sordid Story in John's Own Words.
Well, it is not a pretty story (serious expression). But I'm not looking for pity (grave gaze). I came from a very wealthy family (grin). I was born in San Diego. It was extremely hot that day. My mother was there at the time.

We were basically a middle class family, we vacillated around the hub of middle classity, never hitting the top, but we did reach the bottom a couple of times. My father trained racehorses and show horses and I'd work for him in the summer. My first experience with music, you probably want to know that, I wrote in the front yard. "Will there be, will there be, any stars tonight? Will I be, will I be, with you tonight?" My friends looked at me as if
I'd just had a bad enema.

I would buy plastic accordians at the toy store and play "Beautiful Dreamer" and then improvise. I couldn't really take the time to learn all the color keys. My first experience with jazz (another grin).
I grew up in Riverside and spent many years in Pasadena. Traumatic years there. I changed a lot during that time. I was extremely unpopular for one year and extremely popular the next year without knowing why. One year I was president of the class. I was always a fat little kid. When I was in grammar school I was really good in class, but on the playground or at day camp I would beat the crap out of everybody. My first badge of honor was having the hardest head in Boy Scout camp. I would fight anybody at that time. I'd get beat a lot, but I had my head that I would butt them with. They used to bring kids in to be punished; I'd be laying in my bunk making a wallet and they'd bash a kid's head against mine, he'd scream and I wouldn't even feel it.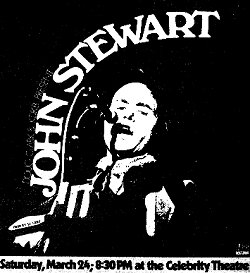 I bought a ukele when I was in Pasadena. I would listen to Sons of the Pioneers records. My mother had Bing Crosby records. Tex Ritter really turned me on to music. "I Love My Rooster" was top 10 as far as I was concerned. I would sing
those and play them on my ukelele.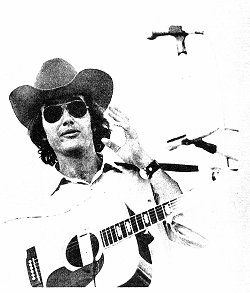 Then I left music in search of my own identity as a fat little kid.

I went out for football which was good because I was short and fat. Worked my ass off all summer, lost 20 lbs and grew six inches and lost all my coordination which I never regained. Coaches drew me aside and said I'd never make a football player.

My friend George Yanok and I were doing a comedy act. We were the Handkerchief Brotherws. We won the Sears amateur contest. George worked in the lost and found and I worked in venetian blinds. I used to send him packages for the lost and found; one was a small box of iron rulers, but I wrote "foam rummer" on it; he dropped it, things like that. I was doing Elvis Presley impersonations with no strings on my guitar. We won enough money to buy tuxes for the prom. I went with Beverly Strathmore who didn't like me because I had zits and didn't play football. I decided I was really getting turned on by Elvis and Buddy Holly and Little Richard and Roy Orbison. I decided to put strings on my guitar. A very big step. I started learning songs, "Blue Moon of Kentucky," "Don't Be Cruel." Then I got a band together. Found some guys who played guitar; we went into a garage, they turned up to ten and I never heard my voice for the first month. We would play anywhere, mental hospitals. . . Zappa was around Pomona then. He was very straight and very weird, about three years ahead of his time. He taught me the chords to "Streets of Laredo," one of the more bizzare trivias of my life. That's like saying one of the Lennon Sisters first turned me on to dope.

So I had this dynamite rock group. We made a record for Vita Records in Pasadena, a song called "Rocking Anna," written by the lady who payed for the session. I wrote the B side. We were John Stewart and the Furies. I had a great red coat that came almost to my knees and a red silk shirt.
Suddenly there were girls . . . I didn't know what to do with the girls who kept hanging around. That was after my short fat period, but I was convinced I was still this short fat kid inside. The record got played on some station in LA, so I took the bus and went into town for an interview. Then I went to Mt San Antonio Jr College in Pomona. Kristofferson was tering up the fields then, but I never met him. All I could think about was music. I never showed up for class. Didn't do anything. Played all the time.

By that time alot of my friends had decided that greaser music really wasn't it, folk music was. I was really getting to like folk music, Burle Ives. Then I heard the Kingston Trio and freaked. I got a folk group together. I was always the leader, very obnoxious. There were three, naturally, mostly because $30 was the going rate, $10 apiece.

We played a lodge called Seven Oaks. I would wash dishes and then the owner would signal me and I would take my apron off and put on my cowboy shirt and do the show, but I was the star because I played six string guitar and the others played four strings.