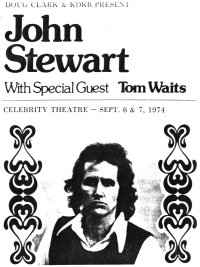 JOHN STEWART/SANTA MONICA CIVIC: ''It's hard to imagine anything more traumatic for a singer-songwriter than putting out two albums with the brilliance of California Bloodlines 1969) and Willard (1970) and then not have them bring you anything more than a stack of good reviews. The only answer when the sales and general recognition don't match an album's quality is to have enough confidence in ourself to believe you haven't yet done your best work and continue moving forward, hoping the audience will catch up. That's what John Stewart has obviously done.

Though Stewart seems to have added some bits of rock to his former country and folk-based style, he continues to deal with the issues that have always been at the heart of his muisic. Stewart is a sort of obsessed romantic, but his romantic concerns deal not only with matters of the heart, but such topics as social progress, the country's heritage and man's freedom of choice.''- Robert Hilburn, L.A. Times.
6-18-74

Stewart is a methodic, engaging performer who, via his warmth, can successfully transform the biggest of arenas into a "living room." And The Phoenix Concerts Live ( RCA CPL2 0265) is powerful proof of Stewart's magnetic charm.

John Stewart is one of our most valuable singersongwriters. He's a weaver, a colorful, descriptive storyteller , who offers us a panoramic view of middle America. Like artist Andrew Wyeth, Stewart devotes most of his musical paintings to the common man's struggle, focusing on the typical American way of
life, and capturing the essence of an individual's tranquil American identity. His historical pieces are most effective when he zeros in on a specific situation, like the storeowner , ''a gentle man who only got mad when he talked about the War," in ''Oldest Living Son.''

Stewart's statements of social protest are subtle and provocative. His writing is many times witty, "Kansas Rain'' contains the memorable verse, "Standin' in line at

the Bank of America/Nobody spoke they were in the House of God,' and most important, accessible.

The Phoenix Concerts Live is a well-balanced blend of Stewart's best known masterpieces, some little-played but exquisite obscurities, and a batch of very compeling new tunes. Stewart's charisma just grabs his audience. Happily included are some of his best monologue bits he does to set up an upcoming number, and two "storyteller" songs which he partially narrates with tender emotion. An added treat is the background
singing of "Angel Rain" Buffy Ford. Stewart's vocal partner for an album recorded seven years ago.
Stewart's glimpses at innocent and ordinary experiences are among my personal favorites, thus the inclusion of "Little Road and a Stone to Roll" is applauded. Here his concern is for everybody's common needs, like "old loose shoes and new good news." His demanding vocal pleads for a return to life's more simple pleasures.
"The Pirates of Stone County Road,'' a picturesque view of rural scenery, begins with Stewart drawling in his best Mid-Western accent. The song then dramatizes a young child's innocent fantasies and brings the listener into the child's own backyard. In the background, throughout intervals of the song, Buffy Ford, as the boy's elderly mother in her "high whicker chair," calls her son in for supper. Indeed, a marvehous selection.
In ''Mother Country," the "dreams that belong to little boys'' are put away by a reality that compels men and women alike to struggle for their livelihood.
Stewart effectively uses fiction based on fact in describing the old-fashioned, uprighteous, patiotic individuals who dominated this country in the earhy 1900s. The song's second verse is about E.A. Stuart and his most prized possession, his race horse "Sweetheart on Parade.'' Stuart though is going blind, and tells his friends, "I gotta ride her one last time." Stewart in a jarring narrative, describes Stuart's last race. "Here they come/E.A. Stuart in the wagon right behind/drivin' her stoneblind."
Then he swings into "Wild Horse Road." Once a song condemning greedy rustlers who shot mustangs for profit, the song takes on an entirely different context as Stewart sings, ''There ain't no wild horses out on wild horse road." The final chorus is numbing, growing more intense with each repetition of "Shoot all the brave horses/and how will we ride?'' An elaborate finale with such heart-felt emotion; for John Stewart this was ''the last campaign."
Michael Barackman, UCLA Daily Bruin,
5 - 29 -74