John Stewart and Buffy Ford
A song called Bolinas

BOLINAS

Time in Bolinas in so very small
The clock on the courthouse ain't workin' at all
And the Mayor of Bolinas is digging for clams
But the folks in Bolinas
They don't give a damn

Two little figures far down the road
Chasing the train as far as they go
But the train disappears in its own westward dot
And the two little figures now stand on the spot
Where all that mighty iron had rolled
And the track now is cold

Chorus

When the world was spinning a song
And it whistled the wind
Carry it on
When the world was spinning a song
And it whistled the wind
Carry it on

Time in Bolinas is so very small
The clock on the courthouse ain't workin' at all
And the Mayor of Bolinas is digging for clams
But folks in Bolinas
They don't give a damn

© John Stewart
Recorded by John Stewart with Buffy Ford vocals on The Lonesome Picker Rides Again (Warner Bros K46135)

I had always assumed from the tone of John Stewart's song that Bolinas was a small south California coast village near or on the Mexican border. A news spot on British TV in 1990 corrected my mistake. Bolinas was north of San Francisco on the Marin County Pacific shoreline. The news piece spoke of a village where there was no crime, where women might walk alone on the darkest of nights, a place where doors need not be locked. Bolinas residents wanted it kept that way.

The villagers were waging an unrelenting war against the Highway Department who attempted to erect signs to Bolinas. As fast as one went up it would be ripped down.

Highway signs or not, Bolinas was easy enough to find on any decent map of Marin County. I first viewed in 1994 from the side of Mount Tamalpais on a trip to San Francisco with my family. Never made it that last few miles. Finally in 1996 I was between trains in San Francisco. I was guest of mother and son Carolyn and Russell Soltys at a good motel on Fisherman's Wharf. Carolyn was ill with bad bronchitis insisting that I both Russell and I continue with the plan to visit Bolinas. Russell grabbed his video camera. Carolyn opened her book, an expose of Hollywood love lives and waved us out of the room.





Thursday, March 21st, 1996

Without a set of wheels two options were open to us. Either take a bus across Golden Gate Bridge connecting up with a bus on the other side. Or there was a more scenic route. Take the Sausalito Ferry from the terminal near the San Francisco Port building. We took the boat.

For a few dollars the ride is a breezy atmospheric trip within spitting distance of Alcatraz whose crumbling edifice still haunts those who grew up on Edward G. Robinson impressions of Al Capone. It looks a sad, soulless, edifice, like it has been decimated by a bomb. The ferry that lands further north at Larkspur comes in along another heartless sight. The deathly quiet, iron barred windows of San Quentin.

With Alcatraz trailing like the seagulls in the ferry's wake my attention is drawn to the approaching town of Sausalito. A mass of sail boat masts and rigging all rattling in the wind. Once the hangout of West Coast rock pioneers like the Quicksilver Messenger Service, David Crosby and the Grateful Dead long since reformed as a quaint haunt for millionaire yachtsmen and jewelled encrusted tourists.

Our ferry glides between a bankroll of yachts before berthing at a small jetty. I am following a pair of fifty something ladies weighted on both arms and necks with jewels and gold. They are dressed to shop in as many wall to wall chintzy shops they can find. As I pass the tourist information stall one is heard to ask: "Have you a map of the shops?". "Map, no Maam. You won't need a map. The shops are over there. There is a small mall and but everything is easy to find," explains a polite guide. "But I must have a map to find out where to shop," implores the lady shaking her head. Some Americans, it seems, need spoonfeeding. Where we are headed today there are no maps. There are no signs.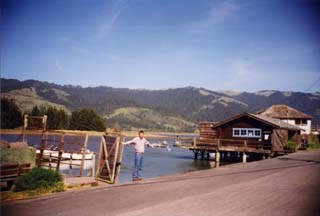 My recommended route to Bolinas if you can split the taxi fare is to first visit Mount Tamalpais which has magnificent views over San Francisco Bay. Up there you will be above the eagles and in the company of piles of mountain bikers. From Mount Tamalpais take the back road down to Bolinas.
Russell and I were lucky to have Eric driving our taxi. He is a young Mill Valley guy who knows every backdoor joint in Marin County plus a few unrepeatable tales of rock star excesses. He is collecting taxi fare stories for a book he wants to write called Bingo On Bodega Bay. The title derives from a ride he took from Sausalito to Bodega Bay and back. A fare that provided him the opportunity to take the rest of the day off.
On one deadly curve above the redwoods Eric points out a collection of roadside flowers. "A few of my friends went over here a couple of weeks back, missed the curve in the road, just plummeted down into the trees," he says quietly. I drew my breath just looking over at the tops of the redwood trees.
On the back road down to Bolinas we stopped on a curve to view the vista below us. Hang gliders and the eagles and Bolinas tucked away a few miles down to our right. Eric reckons this desolate piece of road we are on has been used for some of those Hollywood sleek, fast girl car ads.
From the top sparse rock and short grassland we have plunged in and around the redwoods again. This dense forest was used for Return of the Jedi. Navigating this obscure back way into Bolinas the sun is almost totally obscured. The sunlight unable to penetrate the sheer mass of redwood trees stood like half opened umbrellas.
At the bottom the redwoods have given way to some ordinary trees. We roll up behind a hidden patrol car positioned out of sight of the main road, a cop sat quietly in this shady grove awaiting a speeding motorist. Unexpected we roll past him, Eric turning the taxi right towards Bolinas. We are now skirting a tranquil inlet of sea water.
A laconic heron is picking his feet through the shallows. Ducks are idly chattering in the afternoon sun. This is one idyllic spot.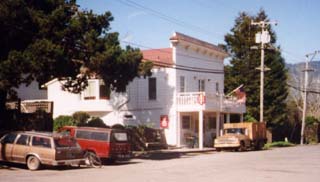 The road rises before dipping down to Bolinas itself. A left turn swinging the taxi down along Bolinas's one and only street. All is quiet like an English dormitory town. Eric suggests it will be cheaper for him to wait for us. We get a price. Pay him up front for the trip so far. He gives us an hour and a half. We hope he will wait. I have a sneaking suspicion he will. He has another chapter of Bingo on Bodega Bay to complete. To our right what constitutes main town Bolinas. A cafe and a general store. Both oozing wooden charm. To our left a girl in a wheelchair sits with her friend on the porch of Smiley's Schooner Bar. Smiley's has been here since 1851. All wooden slatted like it was from another time. Thankfully there are no McDonalds here. No plastic smiles, plastic food or lubricious 'team player' caps. Even the petrol pumps up the road look they came out of Steinbeck's Grapes of Wrath.
While Eric lazes outside Russell and I have entered Smiley's Bar stepping cautiously over the big dog lulling over the doorstep. The bar is but one room, wood floor, pool table over in the corner and a young barmaid who looks like a summer student, black hair ragged and windswept over her glasses and a welcoming smile. Below the massive mirror that lines the wall behind her are row upon row of liqueur bottles.
The bar is real solid. Polished. There is something comforting about putting a beer glass down on a real wood top. A few locals are avoiding the midday sun quietly drinking down bottles of beer. To top it all the barmaid has Gram Parson's first album on the tape player. Songs like 'We'll Sweep Out The Ashes In The Morning' and 'The New Soft Shoe' could have been written in a bar like this. I am right at home in this place.
Russell from Gulf Breeze, Pensacola, Florida, where the condominiums are shooting up faster than you can blink, where the redneck, truck driving, pressed levi classes are getting bigger boats than their neighbours, is opened mouthed at the decor. "Hope there is no-one on here from America's Most Wanted," he cracks swinging his video camera 360 degrees. Luckily there weren't any candidates for one of America's best loved real life 'crimewatch' programmes. Kind of bounty hunting for the box watchers.
We have called for Eric to join us for a beer. Just the one. We don't want him to lose it on those deadly bends up in the hills. I am in tourist mode. The sight of a Smiley's Bar T-shirt has me thrusting in my jeans for fifteen dollars. One has a heron depicted on it but they are sold out of them. Hardly a surprise given the design. The other is a deep green with a depiction of the bar and the legend 'Smiley's Schooner Bar est. 1851'.


"Here we go. Wear it in good health," smiles the barmaid.
"I certainly will. This going all the way home to England before I wear it."
"Do you want me to put it back in the bag for you?"
"Yeah smashing, excellent. You haven't got John Stewart's song Bolinas here have you?"
"No"
"Ever heard it?"
"Uuuh huh. There's a song called Bolinas?"

"The time in Bolinas it goes very small
The clock on the courthouse ain't working at all
The Mayor of Bolinas is digging for clams
And the folks in Bolinas
Don't give a damn."

I sing flatly to the bar which breaks into laughter

"No, you've never heard that song?"
"No" replies the Barmaid again.
"Hey but he should appear here," voice from along the bar.
"That's great . . ."
"Do I have to come all the way from England . . ." I tease.
"Yeah"
"Could you send it here in the post?" asks the guy who I'd been drinking alongside.
"Yeah I'll send it in the post."
"Yeah send it to Smileys . . ." prompts the barmaid.
"What's your name?"
"Jenny"
"Ok Jenny I'll send it to you"
"Send it Jenny c/o Smileys," she smiles. "We'll get it bronzed or framed or something."
"It's a great song, you should have it on your T-Shirt"
"Yeah"
"It's the only reason I'm here"
"I can't believe it, John Stewart eh?" says a young guy shaking his head.
"It's kinda sad it takes an Englishman to point that out," comments the guy alongside me.
It was at this point that I wished I had brought a tape of Bolinas with me. Had I been anything but a tone deaf Englishman I might have blagged a guitar and sang it to them. At least the patrons of Smiley's Bar were saved that.

Eric had driven off to cool his heels for a while. Russell and I take a stroll up the main street. Inside the general store is like something out of the Waltons. A truly fine individual shop where you might buy a newspaper, groceries and to top it all a sandwich counter. Behind it a mid forties something guy is slicing a joint of cooked beef for a customer. The sandwich looks so good that I stop to order me one. There is something unhurried, appealing to having a sandwich hand cut for you while you wait. The big knife cuts slowly, cleanly to divide the sandwich. The guy shakes open a brown paper bag then slides the sandwich effortlessly into it. Smiles and wishes me well.

From here Russell and I take a wander along by the inlet. It is a glorious afternoon. Just outside Smiley's door the road turns right skirting the inlet all the way out to the Pacific Ocean. Along the shore are wooden houses with their rooms built over the water. There is an antique shop to our right and a row of houses. Like Bolinas no two residences look alike. Individuality rather than corporate conformity.

The road ends at the beach. The inlet meets the sea. Seals are barking playfully in the water. Ah such a hard life. Just lounging here and diving for fish. Russell and I idly kick our toes along the sand. Stopping to examine seashells. Here on this beach I have John Stewart's Bolinas soundtrack playing in my head.

The recorded version fits this sleepy hamlet to a T. Stewart's road weary voice coming in behind the sweet honeyed burr of Buffy Ford's vocal. I could imagine John Stewart and Buffy Ford wandering this street on such a sleepy afternoon as this. The only sound is the odd squawk of a seabird or bark of seal disturbing the quiet of this place.

Time in Bolinas is so very small but our time here is nearly over. We are late for Eric the meter man. He is swirling dust along the road to meet us as we walk back from the beach.

To give Russell a complete guided tour I ask Eric to take us back along Stinson Beach and then along the coast. Russell is shooting video out of the taxi where the road climbs out of the slightly more tourist Stinson Beach where the rugged coastline reminds me of Cornwall.

No tour can be complete without riding back over Golden Gate Bridge. San Francisco down over our left, the wild Pacific Ocean to our right. If you grew up, like me listening to just about everybody who played at Bill Graham's Fillmore then this is one trip that will put a John Cipollina guitar lick spinning between your ears.


Bolinas, a slight return
I found myself back in Bolinas on the following Saturday courtesy of a cadillac ride from a Mexican farm worker who picked me up cold and tired after spending a night in the redwoods above Olema (a whole other story involving drinking beer at five in that morning with a San Franciscan barman in an Olema motel room while his girlfriend slept. Thanks for the sweat shirt Mark).

Saturday night in Bolinas was amazing. My kind of gig. I ate fresh (Sir Francis) Drake's Bay oyster chowder and chilli at the local restaurant. Jenny was running the bar at Smiley's. The student jeans and vest replaced by a black dress, black tights and red nail varnish. Amongst the clientele I met an accountant from Sausalito and a girl called Sarah from Dublin. She had lived in Oxford for a while but now lived in Marin County with her boyfriend who led the three piece band who played the gig.

It was a cracking evening, the band sounded not quite together in the first set then seemed to catch fire in the second. They blew the heat into Green's Black Magic Women and a pile of Rolling Stone's songs. The bar got packed, the patrons danced themselves whaaooo welcome to the weekend dizzy. A drunk harmonica player even tried to muscle in but the lead guitar played kept the front mike all to himself. This was my kind of rock'n'roll heaven. An obscure back bar that rocked Saturday night into Sunday.

When the band finished Jenny put on David Bowie's Spiders From Mars album and I reminisced with Sarah from Dublin about what I considered was Bowie's best work. She recommended guitarist Andrew Belew to me after we had a conversation about Frank Zappa's seminal work, Freak Out. I finished off the night talking to the accountant about writing which he had a passion for. Finally Jenny was closing the bar with a final bolt of the door. I had but a short walk to fall into bed. It was a lot softer than the one I had found on Friday night.

On Sunday morning I had two options on getting back to San Francisco. Walk or wade across the inlet to Stinson Beach to catch the bus. I hobbled out of town, feet still aching from my adventures in the Olema woods that Friday night. I met a guy up the road who had slept on Bolinas beach. He was headed for Olema. We swapped tales. A guy pulls up in a beat up old station wagon to offer a lift. He saved me the seven mile walk to Stinson Beach.

On the radio cassette he has some fast Woody Allen ragtime stuff like the soundtrack for Sleeper. Imagine the scene as my colleague slips up and down gears, sliding the station wagon around the corners with a Beale Street ragtime band swinging to the curves.

We talk the whole way. He has a jazz group, he's a musician. He had managed to get a gig for himself at Smiley's next week. "I sat in there with a band last night," he tells me ."That's where I 've seen you, you're the bass player. I took some pictures of you." "You were the guy snapping the photographs eh?" "Yeah I enjoyed the sets," I responded.

"Yeah started kinda strange, I'd never played with those guys before so I just followed the drummer." Which explained the straight down the line bass play of the first set last night.

He explains he is headed for Stinson to wait tables at a restaurant. But his real love was playing bass in his kicking jazz combo that he described to me. As we passed the sandbar he laughed: "Every year a team from Stinson and one from Bolinas have a tug of war over the sandbar and try to pull each other in the water."

Sunday morning in Stinson tourists are ambling by. Life in the quiet lane even the passing cars seemed to fitted with heavy duty silencers as they just purr by. This is far removed from the hamburger quick lunch stand blare of in the fast lane of American cities. That suits me right down to the worn toes of my trucking boots.

If you ever venture to Bolinas remember to respect its distance from theme park America. It is a far cry from the places where the beer cans are thrown over the highways. Bolinas still refuses to bow to corporate Americana. Let's hope it stays that way.

Pete O'Brien, founder of Stewart fanzine Omaha Rainbow (another great John Stewart song) interviewed John Stewart in Zigzag 42.

Pete O'Brien: "Your songs are America to me, and I think that if I went over there I'd see a reality . . ."
John Stewart: "I don't think you would."
Pete O'Brien: "If I went to places you sang about I think I would."
John Stewart: "If you went to Bolinas you might . . ."
Mike Plumbley
(see Mike's Website)
| | |
| --- | --- |
| | "California Bloodlines is an American classic. Grab a copy wherever you can find one. The song Bolinas is on John Stewart's later "The Lonesome Picker Rides Again" album recorded in 1971 on Warner Brothers. |
| | Pete Frame's article on John Stewart's "California Bloodlines" remains the definitive statement on the artist. It was published in Zigzag 38. |
| | John Stewart has his own web site at where you can discover what this great songwriter has been up to since that day in 1974 when Pete Frame and John Tobler brought him over for Zigzag's 5th Birthday Party. John Stewart and Mike Nesmith with Red Rhodes on the same bill with Chilli Willi and the Red Hot Peppers, Starry Eyed and Laughing, Help Yourself, AJ Webber. Unbelievable gig. |
Footnote:

When I got back to England I sent Jenny a tape of John Stewart's California Bloodlines plus the Bolinas song. She wrote back to thank me saying that the regulars had played it in the bar and were chuffed. I am keeping a tight hold of the business card on which she wrote an offer of two beers at Smiley's.

Pete Frame wrote me a little more about Stewart's Bolinas song:

"How on earth did you manage to find Bolinas? I made that pilgrimage too, but I wouldn't have found it if my old school mate Mac hadn't taken me there. He says that the residents don't welcome intruders and every time the Highways Dept put up a road sign "to Bolinas", they remove it. That was 1990 or so - maybe it's different now. I loved it there. Hippies in a time warp! Commander Cody was living up the road at Stinson Beach.

At the time he wrote Bolinas, John Stewart was living in Marshall, which is just up the coast. He's still around; in fact he played a gig in Islington at the beginning of the month. He's put out billions of tapes - the guy can't stop writing - and every so often there's a great song. He has no worries - not now that Robson and Jerome have recorded Daydream Believer! That's his pension sorted out.

I sent a copy of your letter to Pete O'Brien (Omaha Rainbow), so it'll probably work its way to Stewart. He'll be blown away by the fact that one of his most obscure songs lives on! And may, even, over 25 years on, get played in Smiley's Bar. Isn't life totally fucking brilliant.

Having spent much of the last decade doing Radio 1 documentaries, I am now doing all sorts of weird stuff - including football family trees. (My Manchester United one is featured on a BBC2 programme tonight, in the George Best night). What a strange life I have had.

And who would have it any other way?

A letter from Pete Frame, rock writer supreme (19/5/96)

[Bits & Pieces] [Homepage]